Dehydrated alfalfa, a forage that strengthens its future with Forsa.
The Almuniente dehydrator has undergone a remarkable change in the last four years.
It continues to be an independent dehydrator dedicated to the production of raw materials for animal feed, mainly serving farmers in the regions of Los Monegros and La Hoya de Huesca, but the major structural reform implemented 4 years ago has led it to quadruple its production.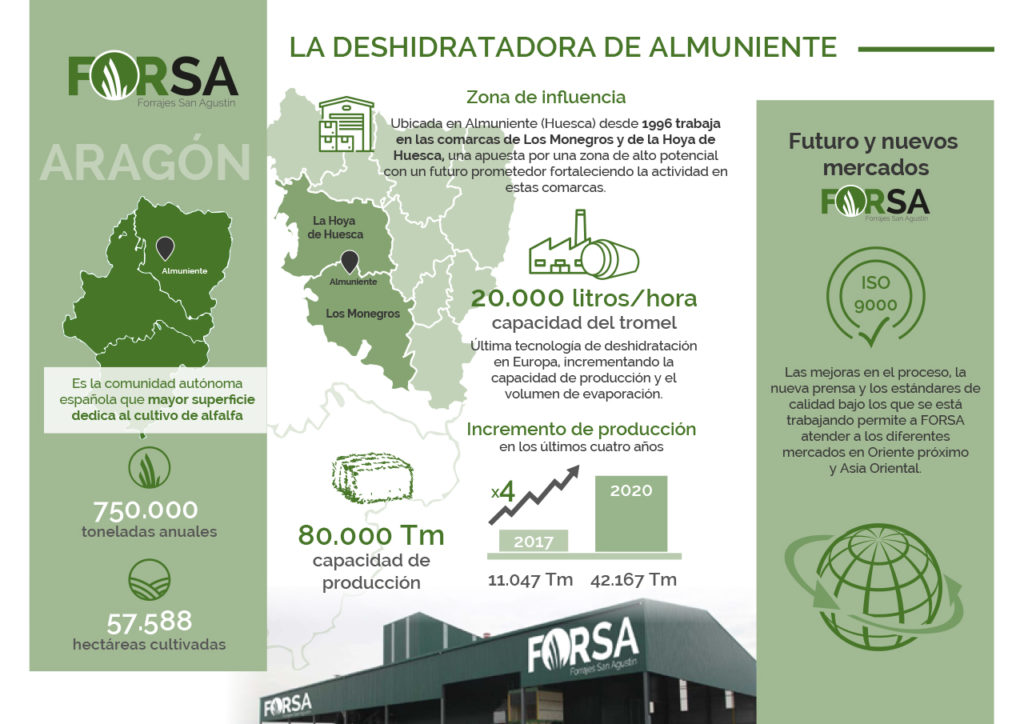 It currently has one of the largest trommels for drying alfalfa in Aragon (with a capacity of 20,000 liters), which allows them to reach a production capacity of 80,000 tons of forage bales. "This has meant that, in the last four years, we have been able to quadruple our production by going from producing 11,047 to 42,167 tons and reaching a production capacity of 80,000 tons of forage bales." In the words of one of the partners, Francisco Tabuenca.
"The trust of local farmers, who are undoubtedly our greatest asset, has allowed us to achieve this level of growth in order to meet their needs and collaborate in the socio-economic development of the area."
The structural reform they have implemented has allowed them to increase their workforce (currently 13 direct jobs) and to collaborate in the creation of indirect jobs in rural areas, as well as contributing to the growth of other local companies directly or indirectly related to this sector.
"Our work has its epicenter in the regions of Monegros and La Hoya de Huesca, which are currently in full transformation for the modernization of irrigation, which will allow significant savings in water consumption, and land consolidation, which will strengthen the leadership in the area in this type of crops while increasing the value of the farms by minimizing their dispersion and improving operating performance by reducing travel and achieving a reduction in pollutant emissions".
Immersed in the process of obtaining ISO9000 certification, which they hope to have by January 2021, will allow them to ratify their commitment to their customers and consolidate their presence in foreign markets such as China and the United Arab Emirates, two of the main destinations for Aragonese alfalfa exports.
FORSA, Forrajes San Agustín is located in the town of Almuniente and from there is dedicated to the production of processed products based on dehydrated fodder in general, cultivates, advises and manages different farms in order to produce different types of fodder and transform them for animal feed.