Last Monday 28th March, Forsa forrajes, an independent dehydrator dedicated to the production of raw materials for animal feed that mainly provides its services to farmers in the regions of Los Monegros and La Hoya de Huesca, inaugurated our new dehydrated alfalfa factory located in Almuniente.
Joaquín Olona, Minister of Agriculture, Livestock and Environment of the Government of Aragon, has been in charge of inaugurating our new facility in a ceremony in which he was accompanied by Carmen Luesma, delegate of the Government of Aragon in the province of Huesca, Elisa Sancho, vice-president of the Provincial Council of Huesca, Roque Vicente, president of the Development and Sustainability Commission of the Provincial Council of Huesca and Joaquín Monesma, mayor of Almuniente and more than 300 farmers from the Monegros region.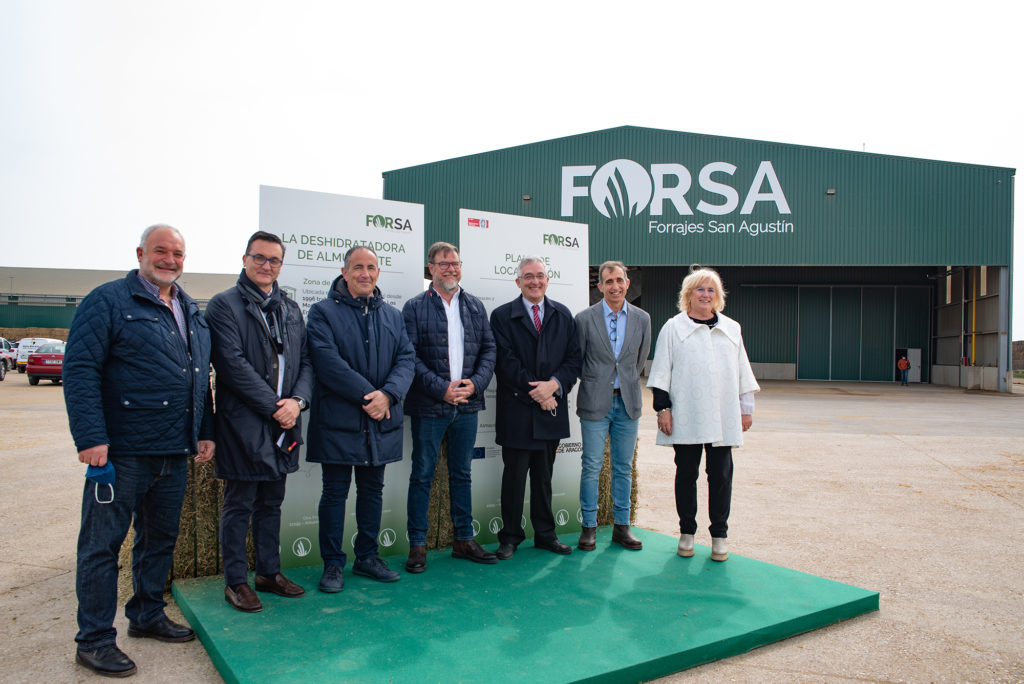 Olona highlighted the sector's competitive capacity to be in the main international markets thanks to the quality of the alfalfa produced in Aragon. "In the Ebro Valley there are ideal conditions for producing alfalfa of exceptional quality, a competitive advantage that the sector has been able to take advantage of," he said.
"For alfalfa, or any other raw material, to reach the global market and produce added value, industry and trade are essential. Projects like this one are necessary, since investing in industry means investing in the territory", said the councillor.
From 2016 until today we have managed to reach a production capacity of 80,000 bales and 40,000 fodder pellets as we have one of the largest trommel for drying alfalfa in Aragon (with a capacity of 20,000 litres). In 2021 our production volume was 5,049 tonnes. Following the expansion, eight new jobs have been created in this line of business, bringing the total to fifteen.
Last year we obtained the ISO 9001:2015 Quality System, which allows us to ratify our commitment to our customers and consolidate our presence in foreign markets such as China and the United Arab Emirates, two of the main destinations for exports of alfalfa from Aragon.